Commercial flooring is an excellent option for a variety of businesses and even busy homes. Whether you're looking to install a new floor in a restaurant, office space, waiting room, spa, or your own home full of messy spills, there's likely a commercial flooring option out there designed for you.
Not only can you find commercial flooring in a wide range of options, but there's a ton of styles available to suit any space. From ultra-modern looks to traditional, vintage, simplistic, and everything in between, commercial flooring options vary in appearance, function, and durability. But which one is the best option for your busy space?
We're dedicated to providing you with design inspiration to help you narrow down the broad range of commercial flooring products available today so you can find the right floor to meet your demands. You might just find one you love!
Types of Commercial Flooring
Commercial floors differ from residential floors in several ways due to the unique demands and requirements of places of business.
Durability - Commercial spaces typically experience higher levels of foot traffic and wear and tear compared to residential areas. Therefore, commercial floors are designed to be more durable and long-lasting. They are often engineered to withstand heavy use without showing signs of significant wear or damage.

Maintenance and Cleanliness - Commercial flooring is designed to be easier to clean and maintain. This is essential in environments like restaurants, bars, offices, and retail stores, where cleanliness and hygiene are paramount. Commercial flooring is often less porous, making it resistant to stains and easier to clean.

Safety - Safety is a top priority in commercial spaces. Commercial flooring materials are designed to meet specific safety standards, including slip resistance, fire resistance, and compliance with building codes. This ensures the safety of employees and customers. Your commercial flooring consultant at Carpet One Floor & Home can help you identify products that meet your safety requirements.

Installation - The installation of commercial flooring often requires professional expertise, as it may involve more complex layouts, subfloor preparation, and adherence to specific building codes and regulations.

Sound and Acoustics - Commercial spaces often require special attention to sound control and acoustics. Flooring materials with sound-dampening properties may be chosen to reduce noise levels in crowded or open-plan areas.
Whether you're shopping for your business or you have a residential space with high traffic that that needs a more durable flooring options, there are plenty of stylish products made to last in a commercial space.
Commercial Wall and Floor Tile
Floor: Design Art by Emser®
Tile is one of the top choices because of its performance, incredible durability, sleek appearance, and long-lasting nature. Not only that, but most tile is water-resistant and easy to maintain. These features make it perfect for spaces where spills and other moisture-prone accidents are likely to occur, such as restaurants, kitchens, dining areas, entryways, and other business spaces.
Plus, not only are the features impressive, but the number of tile styles available can't be beaten. There's large format commercial tile, gorgeous backsplash mosaics, and more! You're sure to find something perfect when choosing tile for commercial flooring systems.
Wall tile: Hangar Sand by Emser®
One way you can use tile to accentuate and elevate commercial spaces is by installing it on walls. This not only heightens the room and draws the eye upward, but it also protects walls from spills and stains, making them slip-resistant, plus quick and easy to clean. Because tile is low maintenance, you can easily wipe walls down when needed.
Floor: Citizen Public by Emser®
Floor tiles are another unique option as they can be found in so many sizes, shapes, styles, and materials. Just like wall tiles, commercial floor tiles are easy to maintain and keep clean, provide a refined look, and can be adjusted to create a number of design styles depending on the look you want to create.
Commercial Vinyl Flooring
Floor: Separation in Detour by Core Elements
Vinyl flooring is a popular choice for busy homes because of its incredible durability, stunning wood looks that resemble hardwood floors, and easy cleaning, maintenance, and installation. All of these advantages also provide a great option for commercial business flooring projects. High-traffic areas like those found in commercial spaces typically see heavy wear and tear, dirt, cracks, or other damage.
Floor: Coretec ProPlus Enhanced Luxury Vinyl in Rocca Oak
High-quality commercial vinyl flooring can handle the daily foot traffic and possible mishaps that can occur, which is why it's becoming such a popular option so quickly. Plus it provides life-long ease of maintenance. Additionally, the wood-look floors and other product looks available in commercial vinyl flooring provide customers with commercial spaces a charming, professional look that is adaptable to almost any budget and style.
Commercial Carpet Tiles
Floor: Promoter in Booster by Core Elements
Tried and true, commercial carpet tiles have been around for many years and continue to be a top choice for a few different reasons. Easy to maintain, versatile, resilient, plus quick and simple to replace, there's simply nothing like commercial carpet tiles.
Also available in tons of patterns, colors, and styles, you can find commercial carpet tiles that offer the look you're aiming for in your commercial business environment. Plus, with heavily patterned carpets and deep, dark colors, it's easy to hide food and drink spills and dirt, making them an ideal option for all kinds of commercial spaces.
Floor: Design Medley by Core Elements
Flooring Advice by Commercial Space
Flooring plays a significant role in the design and function of various commercial spaces, impacting aesthetics, safety, durability, and more. Here are some examples of commercial spaces and how flooring contributes to their design and function:
Retail Stores
In retail, flooring choices are crucial for creating a visually appealing and welcoming atmosphere. Materials like hardwood or luxury vinyl tile can provide an upscale feel, while durable options like ceramic tiles or concrete can withstand high foot traffic. Flooring can also be used to guide customers through the store or highlight specific product areas.
Hotels
Flooring in hotels must balance elegance with durability. Carpeting is often used in guest rooms for comfort and aesthetics, while areas like lobbies and corridors may feature marble or porcelain tiles for a luxurious appearance. In high-traffic areas, slip-resistant flooring is essential for guest safety.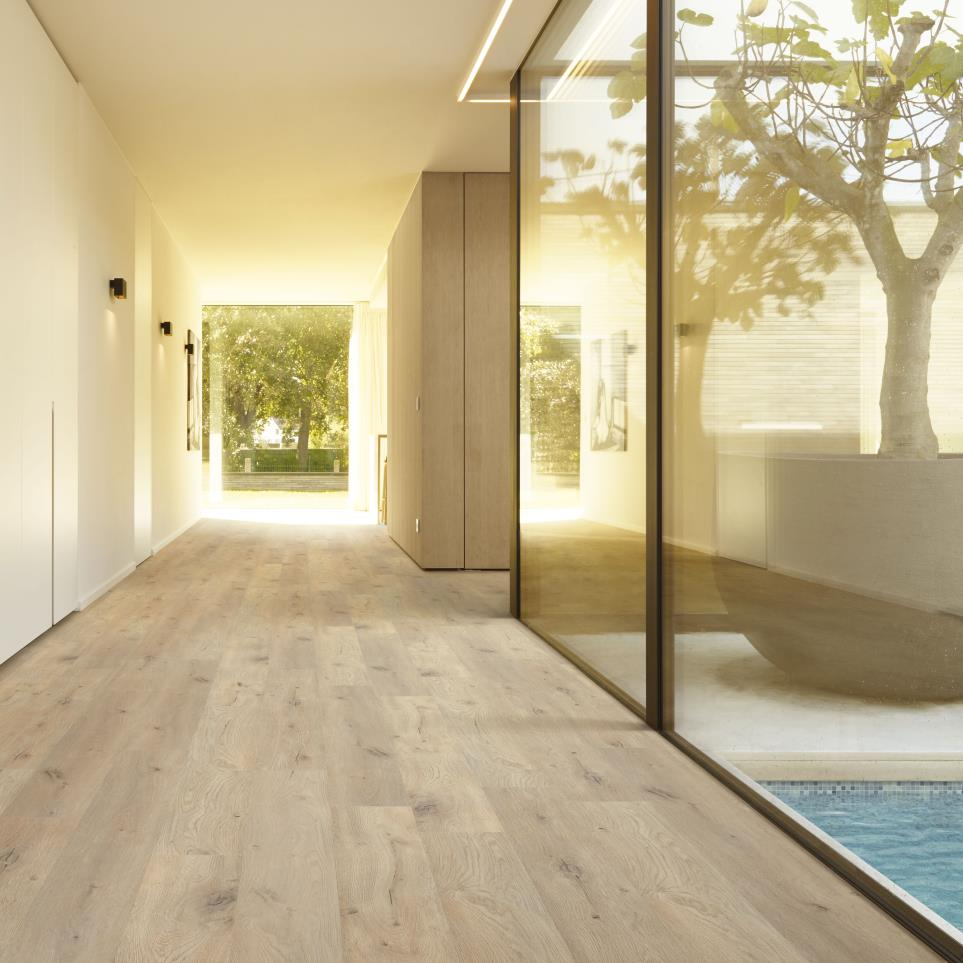 Floor: Charleston Place
Healthcare Facilities
Flooring in healthcare settings must meet strict hygiene and safety standards. Seamless and non-porous options like sheet vinyl, are commonly used in hospitals and clinics due to their ease of cleaning and infection control. Patterns and colors can be chosen to create a calming and sanitary environment.
Educational Institutions
Flooring in schools and universities must accommodate a wide range of activities and age groups. Carpet tiles are used in classrooms for noise reduction and comfort, while hard surfaces like vinyl or tile are a common flooring choice in corridors and cafeterias where durability and ease of maintenance are essential.
Offices
Office flooring should be chosen to enhance productivity and aesthetics. Carpet tiles can dampen sound and provide comfort in workspaces, while hard surfaces like hardwood, laminate, or luxury vinyl are popular choices for common areas and reception spaces. Modern offices also use flooring to create wayfinding paths and designate collaborative zones.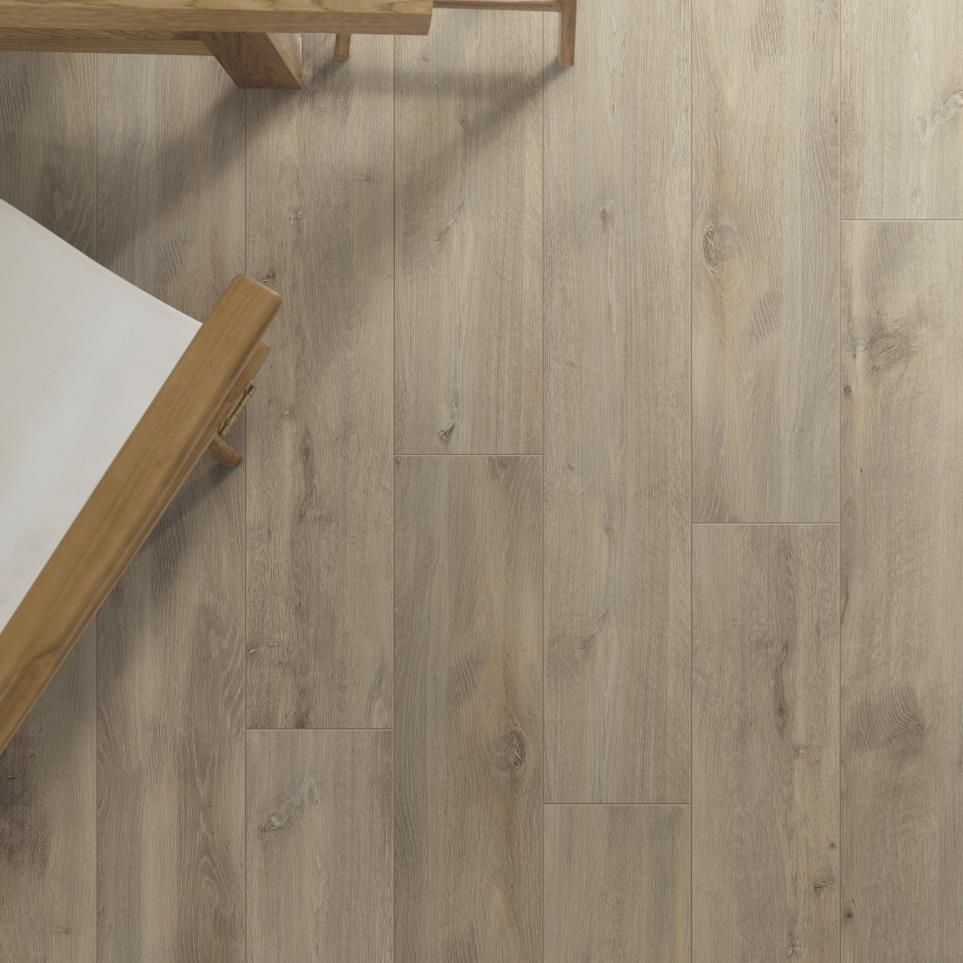 Floor: Conway Springs
Restaurants
In a restaurant, flooring not only contributes to the overall design but also impacts safety and maintenance. Non-slip flooring is crucial in commercial kitchens, while aesthetically pleasing options like hardwood, luxury vinyl tile, or stained concrete are used in dining areas to set the ambiance. Flooring can also help with defining different areas within the restaurant.
Gyms and Fitness Centers
Fitness facility floors should be resilient and provide shock absorption to protect both users and equipment. Rubber flooring is a common choice for its durability and cushioning properties, but many of today's luxury vinyl flooring options are great to gym areas too. Different zones within a gym, such as free-weight areas or cardio sections, may have specific flooring requirements.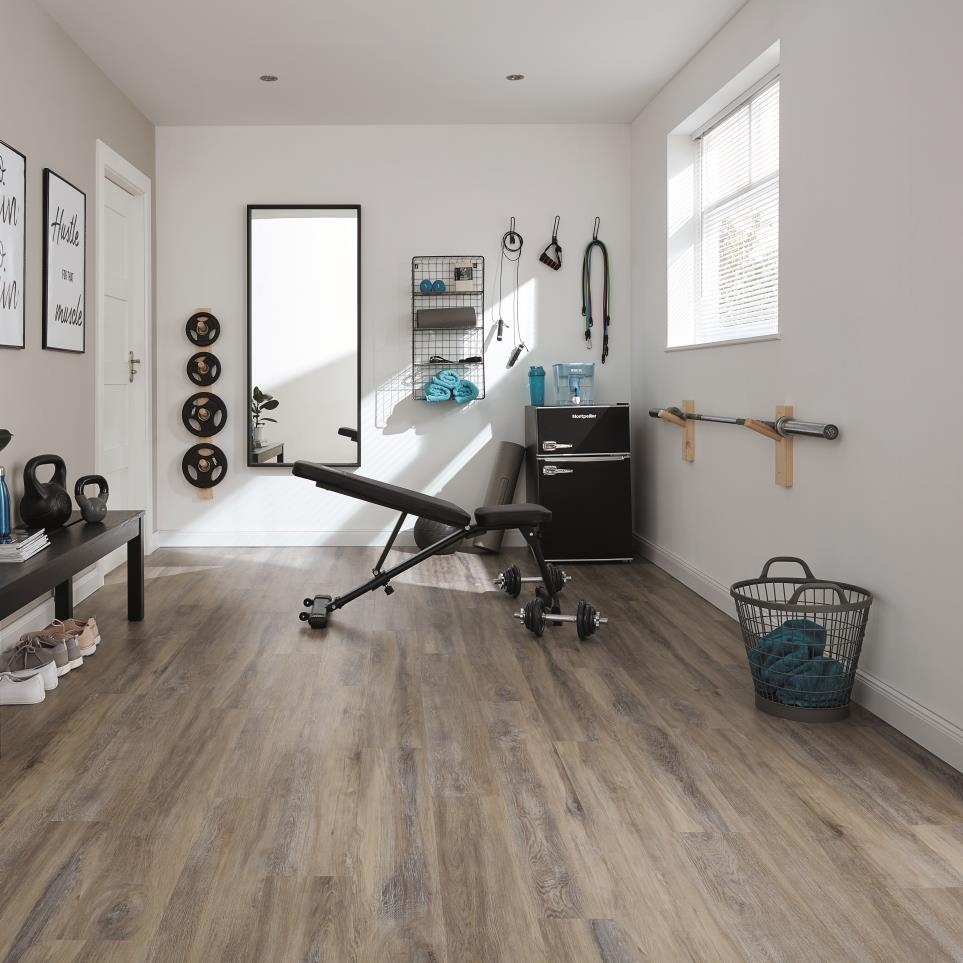 Floor: Knoxville Solid Core in Starfish
Banks and Financial Institutions
These spaces often aim for a professional and upscale appearance. Marble or granite flooring in the entryway and lobby conveys a sense of security and trust. Carpeting may be used in office spaces for comfort and noise reduction.
Art Galleries and Museums
Flooring in these spaces is chosen to minimize vibrations and protect valuable artworks. Non-slip and UV-resistant flooring may be used in exhibition areas. Aesthetic choices can vary widely depending on the museum's theme.
Entertainment Venues
Whether it's a theater, cinema, or concert hall, acoustics and aesthetics are key considerations. Flooring materials that are sound absorbent and provide underfoot comfort, like carpeting or specialized acoustic flooring, are used in auditoriums, while lobbies and concession areas often feature decorative hard surfaces.
How to Shop for Your Commercial Flooring Project
Shopping for commercial flooring requires careful consideration of various factors to ensure you choose the right flooring material that meets your specific needs. Choosing a flooring expert like Carpet One Floor & Home is the first step in making the process simpler and giving you the confidence to choose the best floor for your commercial space.
The commercial team at your local Carpet One Floor & Home will help you identify the most important needs for your space and work with your budget to find cost effective flooring solutions including installation costs. We'll also help you choose a flooring solution that meets any safety requirements for your business type.
One you choose the perfect flooring that will meet your performance needs and look great, we'll coordinate your installation to ensure that the finished floor is exactly what you were expecting.
Are you looking for commercial flooring solutions for your business, commercial space, or your busy home? If so, contact your local Carpet One Floor & Home to find out and learn more about commercial flooring options that are available near you. Or, check out our blog to see more flooring inspiration, design advice, installation, and other tips that might be helpful to you!