When it comes to designing a bathroom, the shower area is one of the most important features. A walk-in shower can add a spa-like feeling to your bathroom and elevate the look and feel of the space, making it a luxurious and practical add-on to your home.
Not only that, but a walk-in shower also makes stepping into the shower easy for kids, pets, adults, and elderly alike. With so many different walk-in shower ideas to choose from, it can be overwhelming to decide which style to choose. That's where we come in!
Design: CYNTHIA SODA Photography: MIKE CHAJECKI
Let us explore some of the most beautiful and practical walk-in shower ideas for homeowners, whether they're looking to renovate their primary bathroom into a relaxing oasis or create a more efficient small bathroom in their homes.
Walk-in showers range in size, style, type of enclosure, and appearance, so there are tons of ways you can show off your personal design style and personality, while creating a functional bathroom. From modern and minimalist to traditional and grand, we'll share various styles to suit any taste and budget.
The Many Benefits of a Walk-In Shower
Design: LOUIS DUNCAN-HE
Before we dive into the different styles of walk-in showers you can choose from, let's learn more about the advantages that a walk-in shower offers:
Accessibility: Walk-in showers are designed to be accessible, making them the ideal option for people with any mobility issues. With no step or ledge to climb over, a walk-in shower in your primary bathroom is a smart move because they provide a safer and more convenient option compared to traditional showers and bathtubs.

More Shower Space: A walk-in shower offers more space, natural light and plenty of room to move around to enjoy a truly luxurious shower experience. A small walk-in shower typically takes up less space compared to traditional tubs or enclosed showers with doors. This makes them an excellent option for smaller bathrooms or when you want to create extra space. This can also help with storing your bath products.

Easy Maintenance: A walk-in shower is much easier to keep clean than traditional showers. They have fewer nooks and crannies where dirt and grime can accumulate, making them more hygienic. The glass walls and hard surfaces are also easier to clean than shower curtains.

Stylish Appeal and Decor: Walk-in showers come in various styles. With so many design options available, it's easy to create a walk-in shower that fits perfectly with the overall design of your bathroom. From decorative tiles to a new shower door, you can completely customize the shower to your unique design preferences.

Increased Home Value: Adding a walk-in shower to your bathroom can increase the value of your home, making it a great investment for homeowners looking to renovate their space. If you have the room for a soaking tub and a spacious walk-in shower, you'll be able to offer a luxury bathroom retreat.

Stylish and modern: Walk-in showers have a sleek and contemporary look that can enhance the overall aesthetic of your bathroom. They are often designed with beautiful tiles or glass enclosures, adding a touch of elegance to the space.

Customization options: Walk-in showers offer a variety of design and layout options, including different types of tiles, showerheads, and additional features like benches or built-in nooks for storage.
Walk In Shower Layout Ideas
Walk-in showers come in various layouts to suit different bathroom sizes and styles. It may be helpful to consult an experienced bathroom contractor and interior designer to determine which layouts will work in your space. Take a look at these layouts and walk-in shower ideas:
Corner Walk-in Shower Ideas
This layout is designed to fit into the corner of the bathroom, utilizing two existing walls. It's an excellent space-saving option for a compact bathroom and often features a glass enclosure on two sides with a single glass door for entry. This layout helps bring natural light to the corner of the bathroom.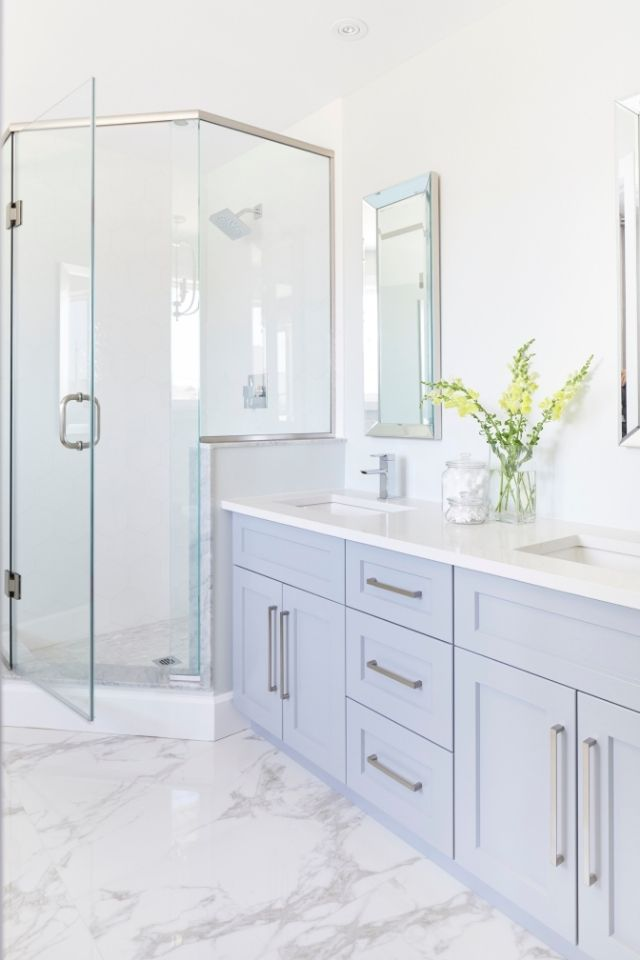 Design: KATE DAVIDSON Photography: JASON HARTOG
Single Wall Walk-in Shower Ideas
This layout is installed along a single wall, making it suitable for narrow bathrooms or as a space-efficient addition to a larger one. The shower usually has a glass panel on one side and an opening on the other for easy access.
Alcove Walk-in Shower Ideas
An alcove walk-in shower is surrounded on three sides by walls, similar to a traditional shower. However, it doesn't have a door or curtain, offering easy access from one side.
Open Walk-in Shower Ideas
This layout is completely open and without any enclosure, relying on the bathroom's natural layout to contain the water. It usually features a tiled floor with a drain and may have a partial glass wall or no barrier at all.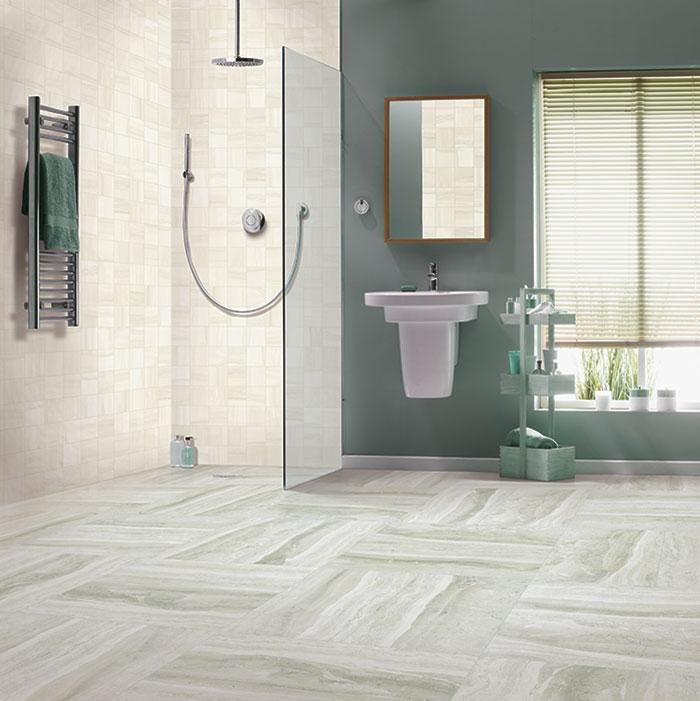 Walk-in Shower with Half Wall
In this luxurious walk in shower, a low wall or half wall is used to separate the shower area from the rest of the bathroom. The half wall provides a sense of privacy while keeping the shower open and spacious.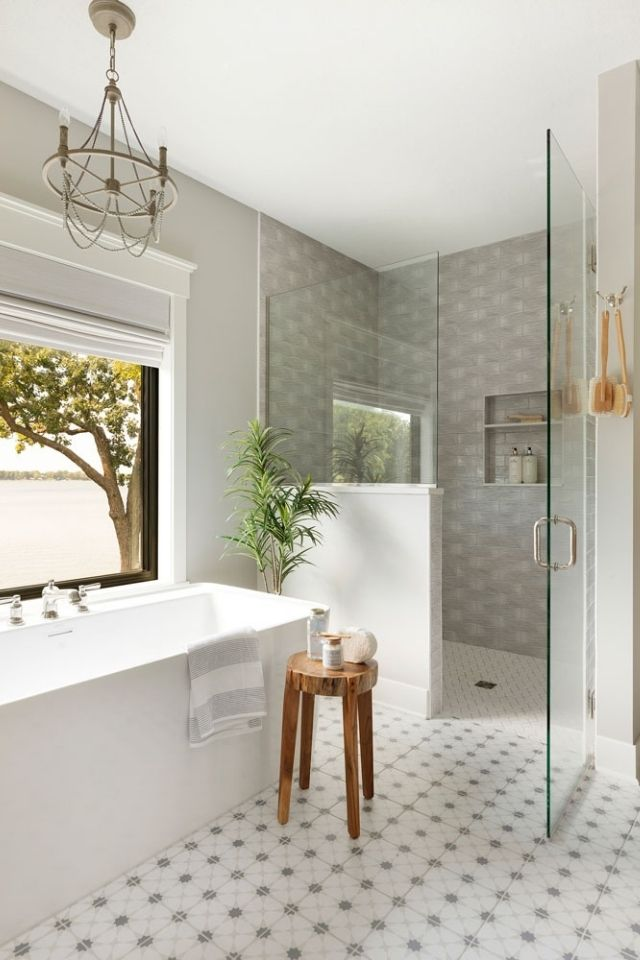 Design: KATE O'HARA
Walk-in Shower with Bench
Adding a built-in bench or seating area to the walk-in shower provides a convenient and comfortable spot for relaxation while bathing. It's particularly useful for individuals who may have difficulty standing for extended periods.
Walk-in Shower with Multiple Entrances
This layout has two openings, often on opposite sides of the shower. It allows for convenient access from different areas of the bathroom and can be useful for shared bathrooms or when incorporating the shower into a larger master suite.
Walk-in Shower with Rainfall Showerhead
While not a specific layout, incorporating a rainfall showerhead in a walk-in shower can provide a luxurious and soothing bathing experience.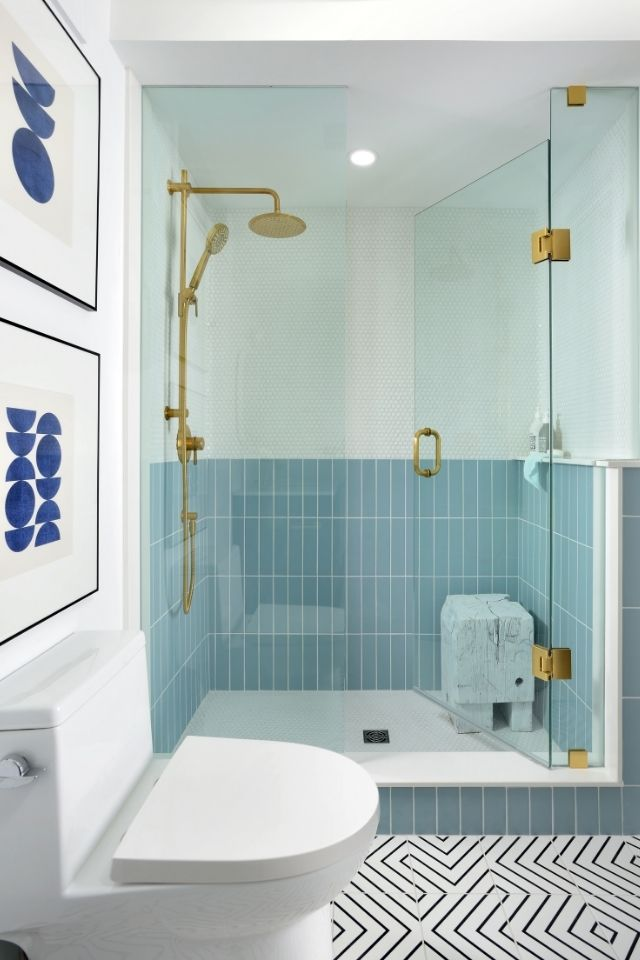 Design: MICHELLE BERWICK Photography: LARRY ARNAL
The choice of layout depends on the available space, bathroom layout, personal preferences, and any specific requirements, such as accessibility. When designing a walk-in shower —whether on your own or with an interior designer —it's essential to consider factors such as water drainage, waterproofing, and proper ventilation to ensure a functional and long-lasting installation.
Walk-In Shower Ideas and Inspiration
A walk-in shower can be designed to fit various bathroom styles, from contemporary to traditional, and can be adapted to suit different preferences and needs. Consulting an interior designer is great idea when you are planning any bathroom renovation, especially one with a walk-in shower.
From a small walk-in shower used to maximize space to a spacious walk-in shower that provides a luxurious retreat, there are various styles to suit different aesthetics and design preferences. An interior designer can help you figure out the best layout and style for your space to achieve the functional bathroom of your dreams.
Here are some of our favorite designer walk-in shower ideas:
Glass Walk-In Shower
Design: DVIRA OVADIA Photography: STEPHANI BUCHMAN
Classic, uncomplicated, and popular in today's top trends, a walk-in shower that features glass doors and a glass enclosure are just one way to create the spa-like bathroom of your dreams. A walk-in shower with glass offers a sleek and contemporary look that can elevate the overall design of your bathroom. The transparency of the glass adds extra dimension and light, making for a spacious bathroom.
Glass is a timeless material. With a range of styles and finishes available, including clear, frosted, and tinted glass, a glass walk-in shower can be customized to fit your design goals. Not only do glass shower walls or glass shower doors provide perfect clean lines, but they also make the shower easy to maintain, thanks to there being no grout lines to worry about. Consider a frameless glass enclosure for an exceptionally modern look!
Walk-In Shower with No Doors
Design: LINDA MAZUR Photography: JASON HARTOG
A doorless walk-in shower is a new, one-of-a-kind way to modernize an entire bathroom. In addition to being modern, doorless walk-in showers also offer a functional design that is becoming increasingly popular among homeowners. You may be asking yourself, what is a doorless walk-in shower? It is simply a walk-in shower with no shower curtain or glass shower door.
With no door or curtain obstructing the view, a doorless walk-in shower offers a spacious feel and lots of natural light that can make even a small bathroom feel spacious. This design also provides easy access, making it practical for those with mobility issues or those who prefer a more accessible shower.
There are many ways to achieve the doorless walk-in shower appearance, both with tile and a glass enclosures. You can choose to go all-in with a doorless walk-in shower and flooring that is flush with bathroom floor or even add a step into the shower for a different look.
Black and White Walk-in Showers
Design: MICHELLE BERWICK Photography: LARRY ARNAL
The combination of black and white has been around for many years, and in today's most beautiful walk-in showers, it still proves its timelessness. The contrasting black and white tiles create a classic and bold look that fits various design styles, from contemporary and modern to traditional. The combination of black and white tile provides striking visual interest that adds an extra dimension to your bathroom wall space.
White tile with black grout work well together and provide stark contrast that draws the eye upward along the back wall when installed from floor to ceiling, while a black shower floor and white walls make a statement. Black and white tiles can be arranged in various patterns, from classic checkerboards to more intricate designs, allowing for plenty of creative freedom. Using black and white tiles in a walk-in shower is also a practical choice, as these colors are easy to maintain and keep clean.
Finding the Best Floor for Bathrooms with a Walk-In Shower
When choosing flooring for a bathroom with a walk-in shower, it's essential to prioritize safety, durability, and water resistance. Here are some types of flooring that work well for this moisture-prone area:
Ceramic or Porcelain Tiles: Ceramic and porcelain tiles are popular choices for a walk-in shower due to their water-resistant properties and wide range of design options. They are durable, easy to clean, and available in various sizes, colors, and textures.

Natural Stone Tiles: Natural stone tiles, such as marble, granite, or slate, can add a luxurious and elegant touch to a walk-in shower. These materials are durable and visually appealing, but they may require regular sealing to prevent water absorption.

Pebble or River Rock Tiles: These tiles consist of small, smooth pebbles or river rocks set in a mesh backing. They provide a natural and slip-resistant surface, making them ideal for a walk-in shower where safety is a concern.

Vinyl: Vinyl flooring, particularly luxury vinyl tile (LVT) or luxury vinyl plank (LVP), is a budget-friendly and water-resistant option for bathrooms. Modern vinyl designs can mimic the look of various materials, including wood and stone.
Shower floors in your walk-in shower can dictate the overall design and feel of your bathroom. That's why it's so important to get a variety of shower floor ideas before you start creating the bathroom of your dreams. By seeing a number of unique looks, you'll be able to narrow down exactly what you're looking for in your bathroom shower design.
Design: HIBOU DESIGN AND CO Photography: DREW HADLEY
If you're having trouble envisioning how your tiles will look in your new bathroom, you may want to consult an interior designer. Whether you choose to go with a stark black, modern tile with clean lines or a classic and timeless white marble, we have tons of walk-in shower floor ideas to share with you!
Features that We Love in Walk In Shower Designs
When designing a walk-in shower, various accessories and features can enhance its functionality, comfort, and aesthetic appeal. Here are some of our favorite options:
Shower Bench or Seat: A built-in or fold-down shower bench provides a convenient and comfortable place to sit while showering. It's especially beneficial for individuals who have difficulty standing for extended periods or those who enjoy a more relaxing shower experience.

Multiple Shower heads: Installing multiple shower heads, such as a those that give you a gentle rain shower and a handheld showerhead, allows for a more customizable and luxurious showering experience. Some people also opt for body jets to provide a spa-like water massage.

Shower Niche or Shelves: Including a built-in shower niche or shelves provides storage space for shampoo, conditioner, soap, and other shower essentials. It keeps the shower area organized and clutter-free. If you prefer to go without built-in niches, you could also use a walk-in shower stand to store your everyday items.

Grab Bars: Grab bars are essential for improving safety, especially for individuals with mobility issues or seniors. Strategically placed grab bars offer support and stability while entering, exiting, or moving within the shower.

Shower Curtain or Glass Enclosure: If you prefer some privacy and water containment, consider installing a shower curtain or a glass enclosure. Frameless glass enclosures can provide a modern and elegant look to the walk-in shower.

Waterproof Bluetooth Speaker: To add entertainment and relaxation to your shower experience, a waterproof Bluetooth speaker can be a great addition. You can listen to your favorite music, podcasts, or audiobooks while showering.

LED Lighting: LED lighting in the shower area can create a soothing ambiance and set the mood for a relaxing shower. Some LED lights are waterproof and designed specifically for use in wet areas..

Handheld Showerhead: A handheld showerhead is versatile and practical. It allows for targeted cleaning, easy rinsing, and is especially useful for cleaning hard-to-reach areas or for washing pets.

Steam Feature: If you want to turn your walk-in shower into a spa-like retreat, consider adding a steam feature. This can provide therapeutic benefits and help you unwind after a long day.

Anti-Fog Mirror: If your walk-in shower is large enough to include a grooming area, consider installing an anti-fog mirror. This ensures you can shave or do your skincare routine without the mirror getting fogged up from the steam.
Remember to consider your specific needs and preferences when choosing accessories and features for your walk-in shower. Each addition should contribute to a functional and enjoyable showering experience while complementing the overall design of your bathroom.
Looking for more interior design tips, photos, and advice? Keep the inspiration flowing by checking out our blog.